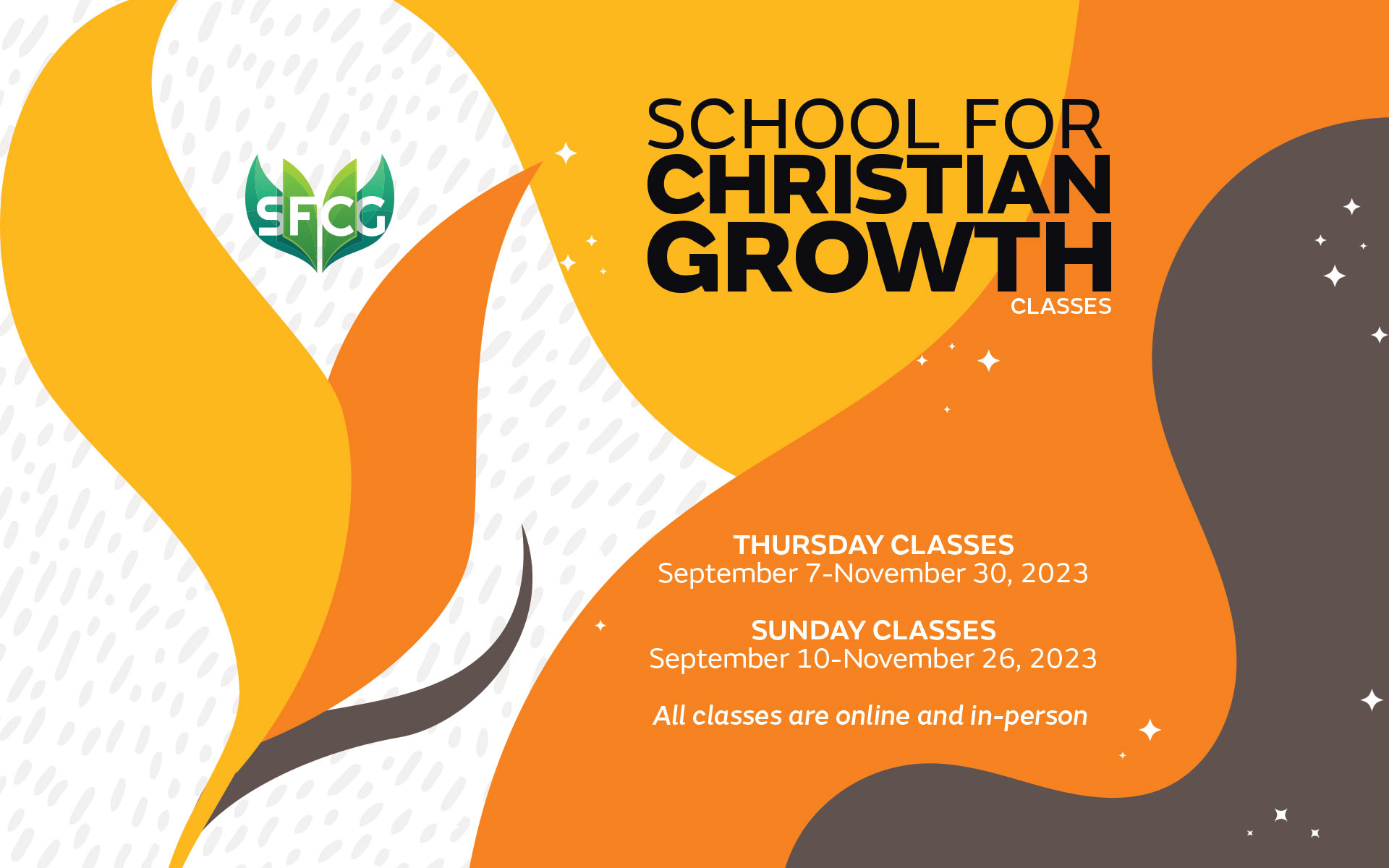 FREE CHRISTIAN EDUCATION AND BIBLE KNOWLEDGE CLASSES
IN-PERSON AND ONLINE
School for Christian Growth is part of First Assembly of God's Christian education and Bible knowledge development ministry. It provides various twelve-week classes in a trimester cycle for learning, training and equipping in Bible knowledge, Christian growth, development and ministry. The objective is for every student to learn and experience 2 Timothy 3:16–17:
"Every Scripture has been written by the Holy Spirit, the breath of God. It will empower you by its instruction and correction, giving you the strength to take the right direction and lead you deeper into the path of godliness. Then you will be God's servant, fully mature and perfectly prepared to fulfill any assignment God gives you."
Classes are designed to help students experience God; be made complete in Him; and be prepared and equipped for every good work for His kingdom. We put in place teaching that is sound, anointed, practical and impactful to all areas of Christian life, walk and ministry. Students will:
Be TAUGHT the Word of God
Be able to APPLY the Word of God
Be TRANSFORMED by the Word of God
Be EFFECTIVE ministers according to the Word of God
We will be providing classes in-person and on Zoom for all Regions and their communities. We are trusting that many lives will be touched, transformed and equipped for greater works for God's kingdom.
THURSDAY CLASSES
Letters from John, the Beloved Disciple: 1, 2, 3 John
Growing Into Emotional Health
Rebecca Furuhashi (Room 207)
Thursdays @ 6:30 PM
Have you ever had an incredible spiritual breakthrough at an altar call and the next week, had a huge blow up with a family member or close friend? Sometimes it seems as if our emotional maturity does not match our spiritual progress.
What is emotional health, from God's perspective? This class will tackle our emotions and relational habits through the lens of Old and New Testament characters such as Joseph, David, Elijah, Jesus, Peter and Paul.
It will give you (and those under your leadership) practical skills to examine and process our feelings so that we create more room for God to speak and move in our lives.
We will also learn how to manage triggers, boundaries, and relational conflict. Come join us on a journey as we grow into emotional health in God.
Rebecca Furuhashi has served for twenty years in education as a Bible and English teacher, and in various roles in administration for Christian Academy prior to stepping down for her current sabbatical. She is passionate to see people deepen in their spiritual formation, discipleship, emotional health, and moving in the supernatural.
SUNDAY CLASSES
Relentless
Tim & Joni Pagud (Room 206)
Sundays @ 8:30 AM
No one likes going through hardships but what if these trials could propel you to the next level of faith and maturity? Relentless, by John Bevere will take you on a journey to unlock your tenacity; look adversity in the face and stare it down. You will discover the champion's view of hardship and learn how to overcome every trial and tribulation you face. To be Church Strong, we must grip the truth in the Word of God and be armed with the power of prayer. You will be able to fight relentlessly, never give up and enjoy all that God has for you!
Timothy Pagud retired from the US Marine Corps, was employed at Aloha Petroleum and currently serves as the new Assistant Head Administrator at Christian Academy.
Joni has been with the Department of Education for over 29 years and is currently the School Administrative Services Assistant at Mililani Middle School.
They have collectively gone on twelve mission trips and lead a Couples Connect Group.
The Invisible Hand of God
Angel Fredeluces (Room 207)
Sundays @ 8:30 AM
You've probably heard the saying, "Everything happens for a reason." The Bible says it this way in Romans 8:28 NLT, "And we know that God causes everything to work together for the good of those who love God and are called according to His purpose for them." But what does that mean? How does it pertain to our lives?
God uses every and any situation in our lives to bring us to a place of influence for His glory. He refines us in the fire with the goal of conforming us to the image of His Son. This can be an extremely hard teaching, but one that we need to learn if we are to live a victorious life. We will examine the life of Joseph, who suffered greatly, and others to help you understand the providential hand of God in your life.
Angel Fredeluces is currently employed as a Safety Manager with Nan Inc., one of Hawaii's largest construction companies. He currently serves on the Church Board, is a Care Group leader and is also active in the Prison Ministry. He and his wife Lorna have attended First Assembly of God since 1980 and have three sons.
The Book of Revelation: an Interpretive Study
Bob Yee (Room 203)
Sundays @ 10:15 AM
This Book begins with seven letters addressed to seven Churches in the End Times. Few would argue today that we are in the End Times. But, did you get your letter? Have you read it?
Come join us as we open and study this Book of Revelation together. In it you will find a personal journey in prophecy of Jesus' soon return. Will you be ready for the Rapture? Do you know the role Jesus has for His Church and for His chosen?
The word 'endure' is used 96 times in the Bible, Matt 24:13 says, "But the one who endures to the end, he will be saved." Do you know what Jesus means? Join us and know that you know.
Bob Yee is a student of the Bible. He is married to Candace, and also an instructor of the Word. They have two children, Lina and Alyssa. He has served as a FAOG Board Member, Christian Academy, and Christian Academy Patriots Foundation Board Member. Bob is also the director and instructor for the Berean School of the Bible.
Kingdom Values: Character Over Chaos
"Every Scripture has been written by the Holy Spirit, the breath of God. It will empower you by its instruction and correction, giving you the strength to take the right direction and lead you deeper into the path of godliness. Then you will be God's servant, fully mature and perfectly prepared to fulfill any assignment God gives you."
2 Timothy 3:16-17 (TPT)